voltagevapin.com
Arctic Tanks are back in stock @ Voltage Vapin'!!!!!
Arctic Tank
The ARCTIC tank is A true sub-ohm tank that can vape at up to 100 watts. The turbine dual coil system that Horizon Tech designed allows for maximum wicking action via two huge wick holes. No more dry hits! We also have coil heads for it, in 0.2 ohms and 0.5 ohm resistance! This tank has enormous flavor and a robust turbine vertical dual coil that can withstand weeks of vaping. Before purchasing, please be sure that if you are using an electronic mod, it can read resistance down to 0.5 or 0.2 ohms. Mechanical mods should have no problems with this tank. Comes with one Arctic tank, a 0.5 coil and 0.2 coil in a gift box. Imported.
Features include:
0.2 ohm & 0.5 ohm resistance coil heads

USA-made Kanthal wire used in the coils
Organic cotton wick

22mm diameter
BTC (Bottom Turbine Coil) technology
12mm intake holes
Adjustable airflow
10W-100W
304 stainless steel construction
Pyrex tank
2.5-3ml juice capacity
Quad adjustable airflow
Optimal wattage: 30-80 watts
---
---
 While you are here check out the other items we have received back in stock!!
That's right the Eleaf iStick 50W mods are finally back in stock at Voltage Vapin'!
Product Introduction:
iStick 50W is a super upgraded version based on iStick series batteries. Powerful vapor can be generated due to the expanded range of output voltage(2V-10V)/ wattage(5W-50W) with 4400 mAh battery capacity. It retains strong spring connector and wear-resistant stainless steel thread. Moreover, the additional temperature alarm function makes it high-safety even in strong vaping. Great feeling when you hold it because of its size and the rounded edges, while side charging port is also a plus.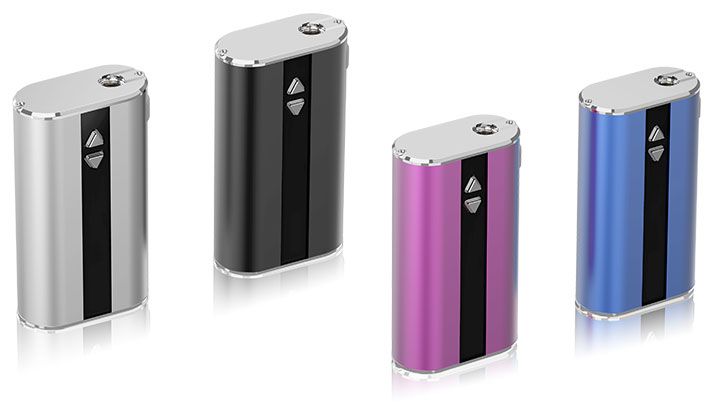 Standard configuration :
| | | |
| --- | --- | --- |
| 1× iStick 50W | 1× eGo Threading Connector | 1× USB Cable |
| 1× Manual | | |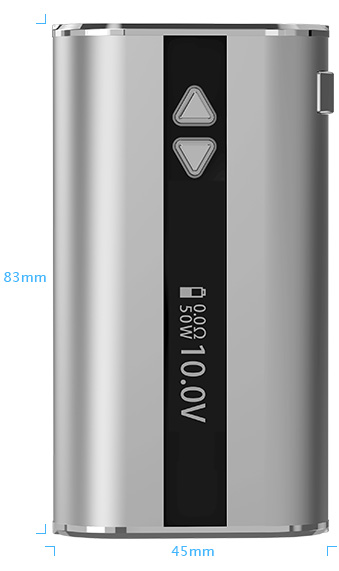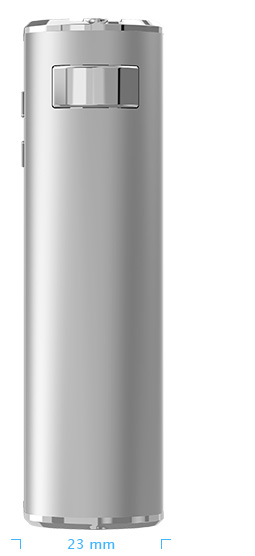 Parameter:
Size: 23.0mm * 45.0 mm * 83.0mm
Color: black, sliver, red, blue
Capacity: 4400mAh
Thread Type: 510 Thread
Rated output voltage: 2.0V-10.0V
Rated output wattage: 5W-50W
Rated resistance range: 0.2Ω-5Ω
Features:
1.Expanded Working Range and Larger Battery Capcacity: iStick 50W has a greater progress in working range (voltage: 2V-10V; Wattage: 5W-50W) and battery capacity(4400mAh).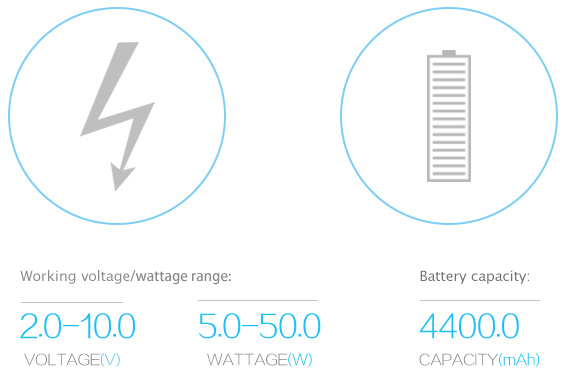 2.Temperature Alarm function: If the temperature of device is over 70℃, the output will shut off automatically and the screen will reflect "Temp Protection" for 5 seconds.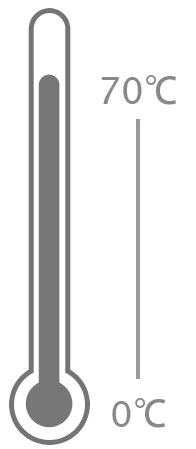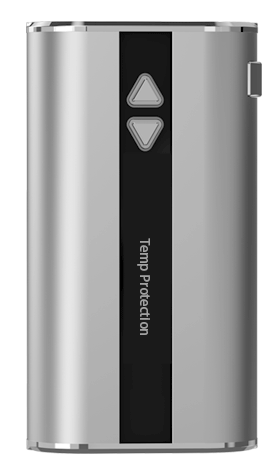 3.Spring Connector and Stainless Steel Thread: The spring connection base ensures its high adaptability. The connecting thread is made of stainless steel which makes it more hard-wearing.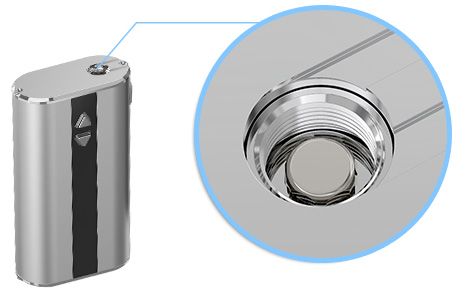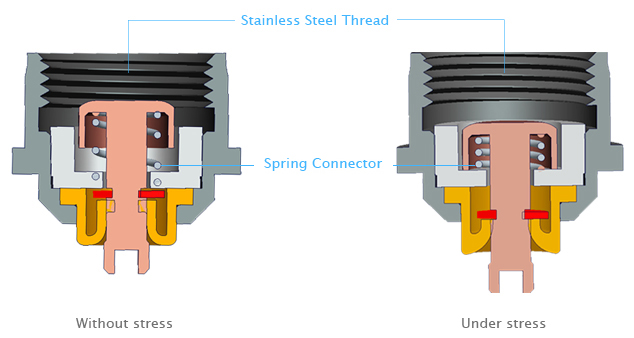 4.Side Charging Port: The USB charging port is on the side of battery which will bring you more convenience.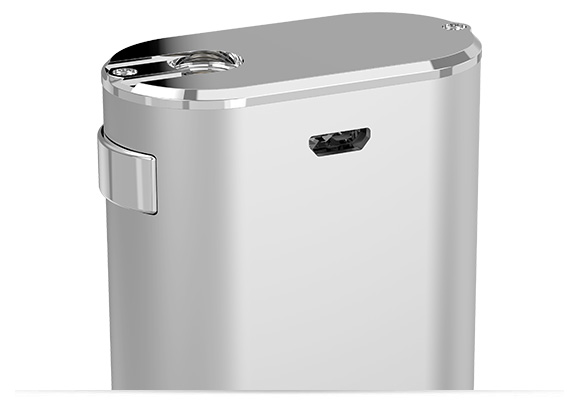 5.Inherit Advantages of iStick Series: OLED display, adjustable voltage/wattage and arrow button lock function.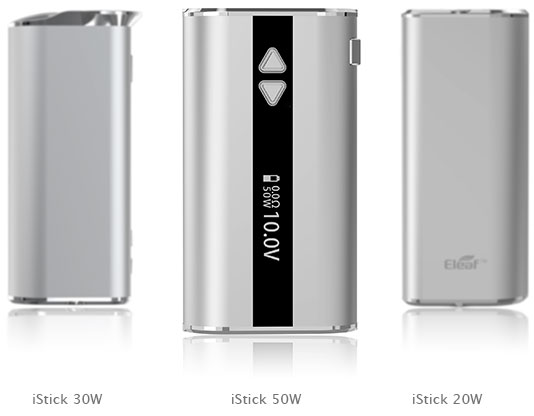 How to charge?
iStick 50W can be charged through USB port near the top of battery. It will take 5 hours to charge the battery via 1A wall adaptor.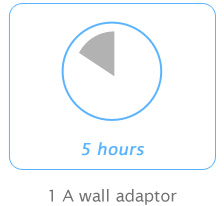 ---
---
Also back in stock at Voltage Vapin'! The Kayfun Clear Long Tubes!!!

We have the Kayfun Clear Long Tubes back in stock! So come get them while they last. Perfect for the Orchid v3 and v4!!!
Kayfun Long Tune features:
Fits all Kayfun, Kayfun Clones, and Orchid tanks
Polycarbonate
Frosted tank that can become clear by polishing (Using Cape Cod)
Clear tank
---
---
That's right, the Airek Competition Clone is now back in stock at Voltage Vapin'!
The Airek Competition Clone is unlike ANYTHING you have tried before.
Airek Competition Clone Features:
22mm Rebuildable Dripping Atomizer
Removable AFC Ring For FULL Competition Mode
2.5mm Stainless Steel Phillips Contact Screws
Copper-SS Positive Post Design For Maximum Conductivity
2.5mm Post Holes for Extreme Cloud And Flavor Chasing
Large 4mm Juice Well
Six 4mm Air Holes
Six 2mm Air Holes
So for cloud chasing fanatics or just people looking to get into dripping the Airek Competition Clone is a great place to look for a great price!!
---
---
We also have the Kanger SubTank™ back in stock!!
If you have been waiting, they are finally back in stock! The Kanger SubTanks are awesome!!! If you've been wanting that re-build-able flavor without the hassle of rebuilding, this tank is for you! It features 2 pre-fabricated, sub-ohm, organic cotton coils.  It includes one 0.5 Ohm and one 1.2 Ohm coil.  This will allow you to sub-Ohm down to 0.5 Ohms with out having to build it yourself. However this is also the perfect way to get into building coils yourself because it also comes with an a deck and chimney insert, so you can rebuild your own coils.
Come get yours today and start sub-Ohm Vapin'!
Kangertech SUBTANK Features:
Normal Dual Coil
Organic cotton coil ( OCC )
RBA head
Replaceable drip tip
Upgraded adjustable airflow valve
Spring loaded 510
Revolution Design
Enhanced Vapor, great taste
Kangertech SUBTANK Specifications:
| | |
| --- | --- |
| Diameter | 25mm |
| Weight | 94g (with OCC) |
| Length | 56mm (Dual coil/OCC) |
| (Not include tip/battery connector) | 55mm (RBA) |
| Resistance | Dual coil 0.8 Sub Ohm or above |
| | OCC Sub Ohm 0.5 Ohm/ 15-30W |
| | OCC 1.2 Ohm/ 12-25W |
| | RBA (custom make) |
| Color | Stainless Sreel |
| Capacity | 6.0mL (Dual coil/OCC) |
| | 4.2mL (RBA) |
| Metal Material | SUS304 |
| Tube Material | Pyrex glass |
Come by and check us out for all your vaping needs!!
---
---
File under:
Back in stock